ENTP 5w6 So/Sx 584 ILE Honorary INTJ ♂
We think I'm a 7 ... definitely sx variant. I always want my 3 mom to just be real, be herself and know she is loved in that real mess and honesty. My whole life this has not really worked and sometimes she feels very threatened. So especially if she is triggered and acting badly, hurting me, and I come and say something like "Well, it makes sense what you're feeling x because of y and I feel hurt too because of z but we love each other, just need to understand where we both are hurt."

I think this approach is so kind and is the way I'd like to be approached. If she ever approached me like this, I would feel so relieved. To my mom this approach is a threat. She will say something like "You just keep hitting me and hitting me. You're attacking me! Get out of here! You're not an angel! So many people say you're hard to work with." Or whatever it is. I've always felt like I am trying to help a fox out of a trap and they are snarling at me and scratching and biting and if it's too much I might have to back away.

I have learned that my approach is not seen as kind. This last time with this, it got so bad that things have not really recovered since. First of all instead of agreeing that no matter what we do love each other and that we can work through it, she didn't agree with that and hurtled insults. She apologized the next day, but she didn't send me a birthday present and she always sends me a birthday present. She then felt bad and sent me one late.

I just want her to not feel so threatened and I know we all can trigger people's fears even if we have no intension of it. I know that somehow my love for her in her worst moments are somehow maybe the worst thing it seems like.... I could tell she thought I was an absolute monster. I don't think her fear here was made up to hurt me. It was like the fox caught in the trap, thinking I was going to kill her.

Can anyone relate and help me out on this? My mom is 76 and I'm 44... I want this to heal. I dearly love my mom. She is an amazing person, but there is something very wrong about how all of this goes down.
You have to realize that 3 is one of the more competitive types. They see achievement as worthy of love. You can't approach them the way you would want them to approach you, that's obviously sending all the wrong signals to her.
Type 3's in the Assertive Group
Enneagram type 3's move against people by being aggressive in their goals in hopes of earning attention.
Type 7's in the Assertive Group
Enneagram type 7's move against people by being aggressive in satisfying their desires in hopes of earning security.
Learn how Enneagram Hornevian Groups explain how your type interacts with others in order to meet your needs. Are you compliant, withdrawn, or assertive?
enneagramexplained.com
.
THE ENNEAGRAM TYPE 3S CORE FEAR
My mindset was "I have to be successful in everything I do." So that meant if I had to cheat in school to get good grades, I would do it. If I had to work extra hard at sports to be the best, I would do it. I was a slave to success.
Which makes sense, since the Enneagram 3's core fear is being seen as unsuccessful.
But what makes things so messy for Enneagram Type 3s is what they define as success.
Success to me in my childhood was sports, being popular and pretty, getting attention - that was my goal. But to someone else, success could look the complete opposite.
As an adult, this is something I have to be aware of daily and have to fight because it can be toxic in relationships. So, here are a few different patterns or characteristics you might see in an unhealthy Enneagram Type 3, or in yourself if you're a Type 3 like I am:
CHARACTERISTICS OF AN UNHEALTHY ENNEAGRAM TYPE 3S
They don't take feedback well
They become defensive
They brag about accomplishments
They love talking about themselves
They fully believe their worth is based on success (not just within their career)
They can easily numb out when their ambitions and goals become too much for you and they're so afraid of the failure that could happen
They can be workaholics and struggle to shut down and take time to rest
They will only do what they're good at so they can keep up the appearance of success
They can build up resentment toward people who don't keep the same pace they do
This is a lot of heavy negatives - but when we recognize them, this is when we can experience growth and create a game plan.
In Episode #90 of the Living Enneagram Podcast, we discuss the characteristics of unhealthy Enneagram Type 3s and 4 ways to overcome them!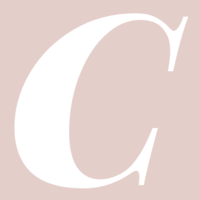 callieammons.com
5 Things That Can Help with the Enneagram Three's Struggles:
Take a moment to consider the goals you are pursuing. Are you pursuing them because you actually want them, or because you're competing or comparing? What would you want if there were no rewards and people loved you for yourself?
Find a trusted confidante that you can share something vulnerable about yourself with. Focus on how you're feeling as you do so. Are you anxious? Do you feel good? Sick? Wary? Look for someone who also tends to be honest about their scruples and mistakes. This can help you see that you can experience love for your true self, not just your achievements.
Take time to be creative for you! Paint, learn a new instrument, draw, re-decorate your room! Make sure what you're doing has nothing to do with your work or gaining any kind of outside approval.
Learn to be part of a team. Volunteer at a soup kitchen, participate at an animal shelter, read to elderly people in nursing homes. Doing these kinds of tasks can give you a sense of self-worth and community that can't be gained by status-seeking.
Take time to meditate, pray, or tune into your body. Really relax and breathe deeply. This may take time to become comfortable with! The more you do this, the more you'll become in tune with your physical needs and your "lost self" that needs to be found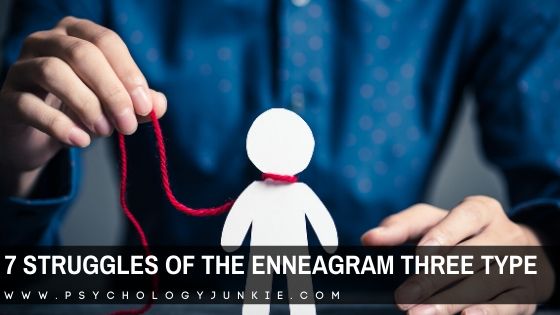 What are the typical struggles of the enneagram 3 type? Productive, goal-oriented, and motivated - Threes are known for their desire for success and achievement. Self-propelled and energetic, they have an inner drive that is nearly unstoppable. Rarely lazy, they feel compelled to accomplish...