Discussion Starter
·
#1
·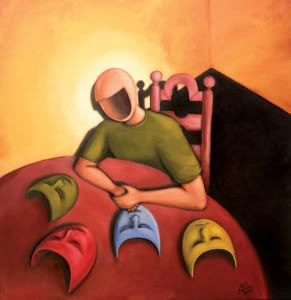 I'm unsure of my type again. I can't figure out what my function order is, which functions I use, if I'm just an unhealthy type, or if I should leave the cognitive functions theory for what it is altogether. Every now and then I think I understand how the functions work and how to recognize them, but other times (such as now), I really couldn't tell, and different descriptions of the functions seem to contradict and I can't make much of Jung himself either (his description of Fi anyway).
Secondly, I'm beginning to feel like I'm the odd one out here on the INFP board and I become very disagreeable sometimes, irked by lots of things. For example, I notice threads and posts that have a sort of angsty self-pitying undertone, while I am more practical in that I identify the problem and ask myself what could be done to change it. Not that it's black-and-white...
I'm quite sure I'm an introvert because my interest gravitates toward my inner world. I'm a daydreamer, preferably lost in thought, staring out of the window, not seeing.
Then there's this:
Jung postulated that when the dominant function in an individual is any one of the four, the inferior function will, by definition, be its partner in that pair. In other words - if Sensation is the dominant function, iNtuition in that individual will be inferior, and vice versa - if iNtuition is the dominant function, Sensation will be inferior. Similarly, if Thinking is the individual's dominant function, Feeling is, by definition, that individual's inferior function, and vice versa.
If anything, my inferior function would be Sensing, meaning my dominant function is iNuition, and since I'm introverted that function would be introverted, making me an INxJ, which would never have entered my mind going by the stereotypes (huge procrastinator over here!). But iNtuition has always been the one function (either introverted or extroverted) that triggered the most interest within me, so...
That said, I'm only almost 18 and suffer from lots of growing pains, meaning my behavioural displays aren't exactly definite and it's hard to tell when I'm being myself and when not, and what that even means.
So, help? I thought maybe you guys could have some insight since I post here regularly.
---
(I'm tagging
@adagio
because he has his doubts about me, too.)
(And please don't say 'You're questioning your type so you must be an INFP' crap, I'm an adolescent for the just-risen Christ's sake, I'm supposed to be questioning my identity! Thanks...)
(I'm so sorry this thread is so egocentric. I don't like it either, but I hope you understand.)
(This thread now has a thumbs up icon, to my horror. I thought I clicked the :-( emoticon so I don't know what happened there!)