Discussion Starter
•
#1
•
link to test:
https://www.idrlabs.com/science-conception/test.php
Description:
Trinitarian
Pauli saw Trinitarian scientists as characterized by the urge to construct rational and logical models of the world. Being the product of objective reason, these models exclude more subjective and irrational aspects, such as values, feeling-tones, and the mystical-symbolic qualities of objects and reality. In his writings, Pauli shows how science was much more Quaternarian prior to the 1600s and how it is largely due to Trinitarian scientists and their rational and reductive models that science has progressed more rapidly over the last 350 years than in the 2000 years before that. Being able to point to the success and yields of the logico-reductive method, Trinitarians have a tendency to think that only Trinitarian science is true science and that Quaternarians are muddle-headed mystics who only confuse things instead of clearing them up.

In the Trinitarian category Pauli put such scientists as Newton, Einstein, Kepler, Descartes (who was in fact a mathematician and scientist as well as a philosopher), and Galileo.
Quaternarian
Pauli described the Quaternarian temperament as based on an intuitive and holistic understanding of the world. Quaternarians do not deny that Trinitarian models have brought great progress, but they feel such models only tell part of the story and fail to do justice to the whole. In other words, they often feel that Trinitarians are constricted and one-sided in their thinking, arbitrarily beholden to whatever elements of reality that present themselves the most evidently to us. Because Quaternarians are seeking to include 'the whole of the experience' in their thinking, their conception of science has a tendency to become more and more abstract, to the point of including mystical or contradictory elements that cannot be understood rationally, but must be gleaned intuitively. Indeed what Quaternarians perceive to be the truth about the world would often seem to lie outside the scope of normal human thinking. They are the ones who are always striving for the ineffable 'beyond,' regarding it as being of greater importance than the things we do know.

In the Quaternarian category Pauli put such scientists as Bohr, Goethe, Kant (who was in fact an astronomer as well as a philosopher), the astronomer Robert Fludd, and Pythagoras.
Results: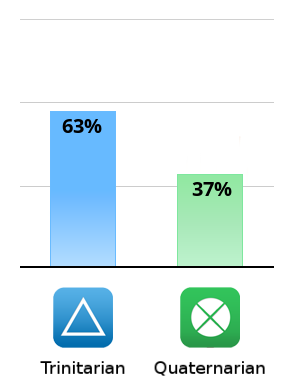 This makes you Casually Trinitarian